Your Universal Weapon for FREAKIN' BRILLIANT PARTIES!
It's impossible NOT to dance along with the fantastic Live Show Buffalo&Wallace put on. They guarantee an unforgettable performance at any kind of event! Buffalo&Wallace have also shared the stage with stars of the 90s like Vengaboys, Rednex, Snap!, Mr. President, Caught in the Act, East 17, Right Said Fred, Whigfield, Culture Beat and Magic Affair and many more.
But 90's aside you can't stop this duo. Their list of satisfied crowds is impressive: they tore the roof off for 3000 people at Sommerfest and the VIP tent at Rock am Ring.
Whether it's at a traditional carnival party, as a supporting act for Public Viewing in the Commerzbank Arena, corporate Events or at regular club appearances in Frankfurt, Hamburg, Dortmund, Zürich… the list goes on! Whatever the setting or occasion, this DJ team is guaranteed to generate an unbelievable atmosphere where everyone has a fantastic time.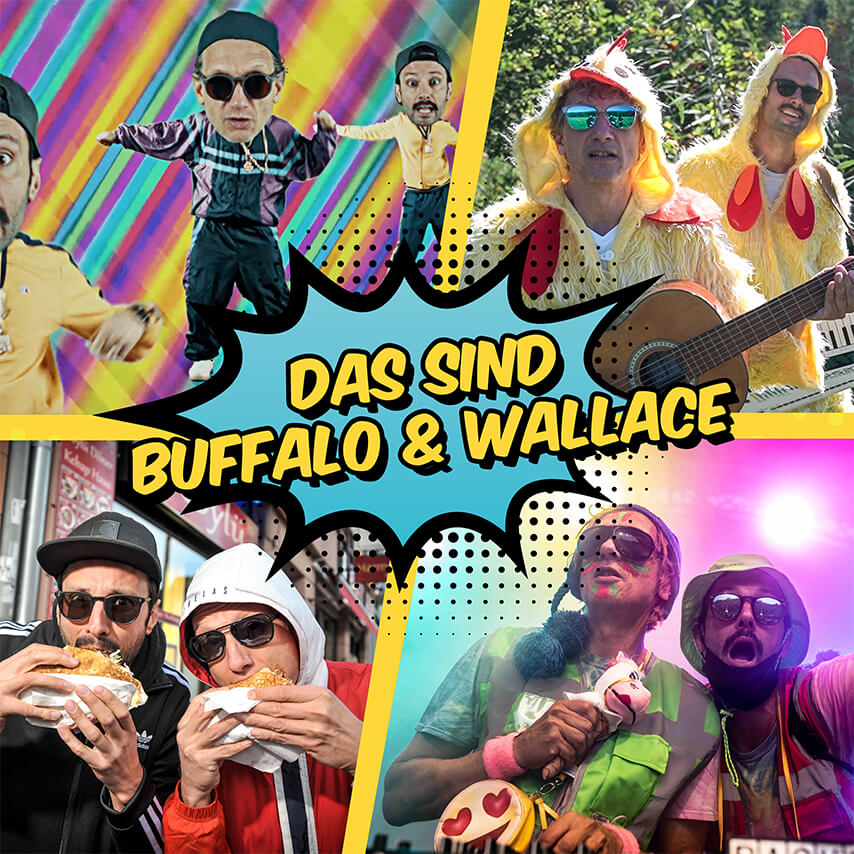 Our own Songs

'Ding Dong Sinnlos Song', 'Döner um 5 Uhr', 'Partytier', 'Hey Du ich liebe Dich' and many more.
We are not only DJs but producing our own crazy music.
You may stream it on every common service!
Also we have put together several Party Playlists on Spotify!
Fanshop
Drop by at our Fanshop.
You will find funny t-shirts, cups, bags, baby bodysuits and other stuff there!
Buy now!
Contact us
Do you want to book us, invite us, have a party with us? We are ready for all kinds of escapades!
Contact us for an individual offer. Leave your phone number or email address and we get back to you!